Multi-Spectral Aerial Solutions presents: Thermal UAV Building envelope scanning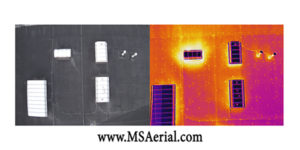 Description CEO of Multi-Spectral Aerial Solutions, Mindi Sokoloski talk will focus on the evolution of Thermal Drones in the Building envelope arena. This hour-long presentation includes viewing radiometric images, 3D modeling, as well as understanding accuracy involving thermal measurements and resolution.
Learning Objectives:   At the end of this presentation, participants will;  1) understand the processes involved in capturing a thermal image using industry grade Suas'. 2) describe the cameras and sensors involved in capturing a proper radiometric jpg, 3) compare process to "boots on the roof" capture. 4) gain an understanding to capture the entire building envelope.
How taught:   This program is a PowerPoint presentation performed by Mindi Sokoloski. Interactive participation is encouraged during this presentation (preferably via zoom), visual samples including photographs and video demonstrations will be used to enhance the learning experience for participants.
A/V needed:  N/A- A Zoom link will be furnished to participants
Target Audience:  Architects, engineers, specifiers, building owners, building managers, contractors, or other design and construction professionals. Due to the presentation being online audience is not limited..
Facilitator Qualifications:  Mindi Sokoloski is the CEO of Multi-Spectral Aerial Solutions and its chief image cultivator. Mindi launched this enterprise after receiving a degree from Tufts University. She also holds a master's degree in Business Management.
Her company focuses on the technology of aerial photography with a UAS (Small Aerial Unmanned system). Along with executive responsibilities, she holds her 107 drone license, has achieved Level 1 in Thermography, and is OSHA 10 certified. She has overseen some of the most involved façade inspections in the City of Boston, including projects in the financial district and Seaport. The UAV team also specializes in industrial Brownfield inspections, high voltage, and internal reviews including shuttered buildings and smokestacks. Along with serving as a board member of the New England chapter of IIBEC, Mindi is a member of the Massachusetts Building Congress and the Professional Photographers of America. Multi-Spectral Aerial Solutions is a certified WBE